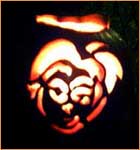 Meryl Strife
Went kinda nuts with Trigun stuff this year. This was a ten minute mini pumpkin demo one to show a buddy how these are done, hence sloppiness.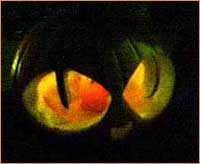 Kuronekosama
This one kept blowing out because the eye holes were so huge.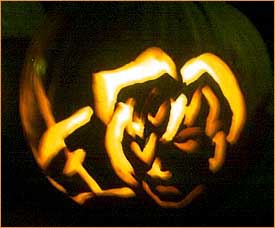 Legato Bluesummers
The photo doesn't do this one justice. BTW, this year's photos are kinda grainy thanks to digital cameras not liking to take photos with the flash turned off.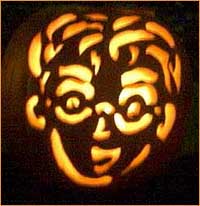 Harry Potter
Yeah, it's not anime. But I dig the books, so I hadda do it.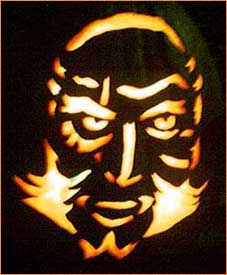 Jet Black
My favorite character from Cowboy Bebop. I decided to do this design at the last minute, and I love how it turned out.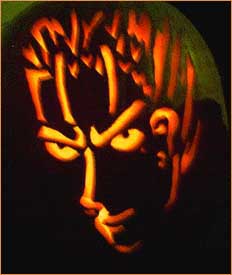 Vash the Stampede
Like I said, I went nuts with the Trigun stuff. Yes, I had to include the earring and the beauty mark. Based on a pencilboard, which illustration was chosen for its neat contrast/shadow effects. (I base designs around the shadows and lines in a given illustration, so I try to pick not only character shots that are kinda spooky looking, but also good head shots with clear lines and interesting lighting.)