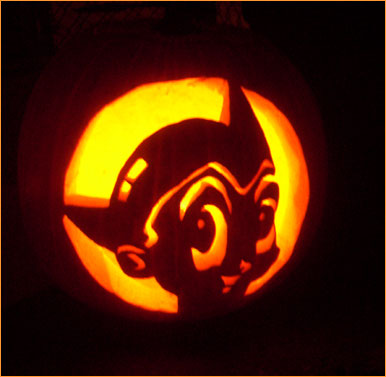 Astro Boy
Tetsuwan Atomu! This one was harder than it looks; the circle was traced from a saucepan. Suggested by my pal Geoff in honor of this year being the one where Astro Boy was supposed to be created. This, like many photos on this year's page, courtesy Mara.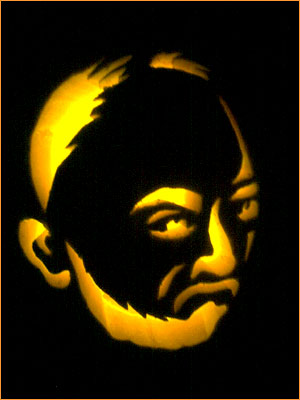 Melvil Dewey
Yeah, you thought the anime ones weren't nerdy enough? Here's one based on the dude who invented the Dewey Decimal System. I had to bring in the snack for cataloguing class on Halloween, so I made a pumpkin to go with.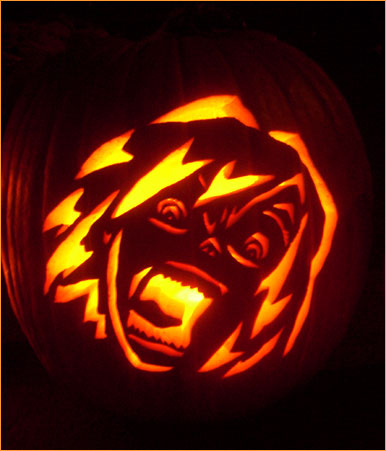 Haruko Haruhara
Haruko from FLCL, as recently seen on Cartoon Network. I really like the odd angle used--that's the right side up, she's just slanted in the source image.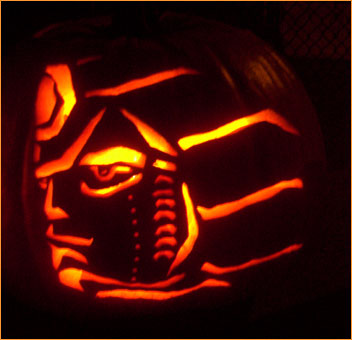 Giant Robo
Normally, I wouldn't repeat designs, but I did this at Ani-Magic and didn't got photos before it collapsed, so I decided to redo it. Kind of a study in why I don't do more mecha (i.e. Gundams or Go Nagai super robots); their faces are generally too flat and too angular.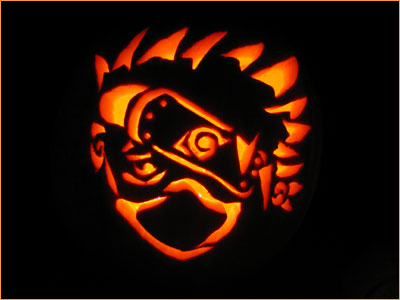 Kakashi
The guy everyone likes from Naruto, which I haven't actually seen or read. Whatever. Did this one as a demo at AWA, and the design practically drew itself. Photo courtesy Lionel Lum.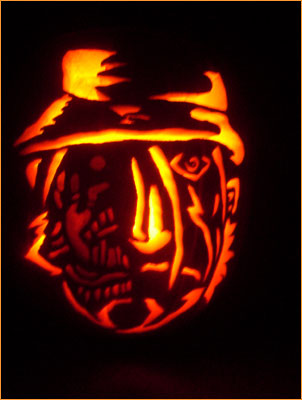 Heat Guy J
Straight from the first DVD cover. Lots of Dremel work on this one; turned out better than I thought.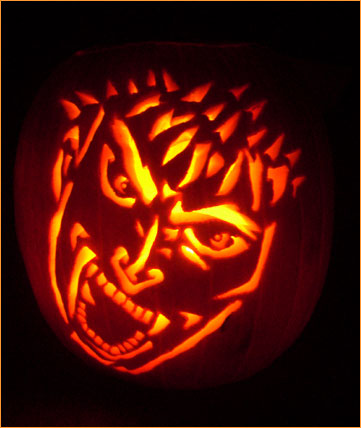 Guts
At Emma's suggestion, here's the happiest guy in Midland. See? He's smiling. Sure. Messed this up a bit, which is the price of it being the last one out before dark on Halloween.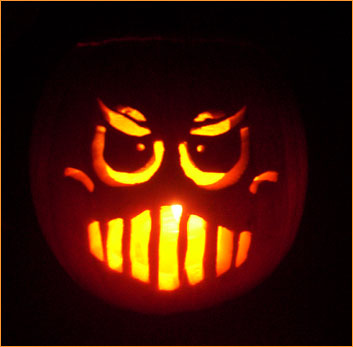 Boss Borot
That thing about not usually doing robots? Well, there're always exceptions, especially when they've got unusually expressive faces, it's already dark, Portugese-speaking trick or treaters are at the door, and I've got one small round leftover pumpkin but no ideas. Inspiration struck as I passed the giant robot shelf in the study. It's everyone's favorite big dumb Go Nagai robot!
Above: My porch, 10/31/2003.