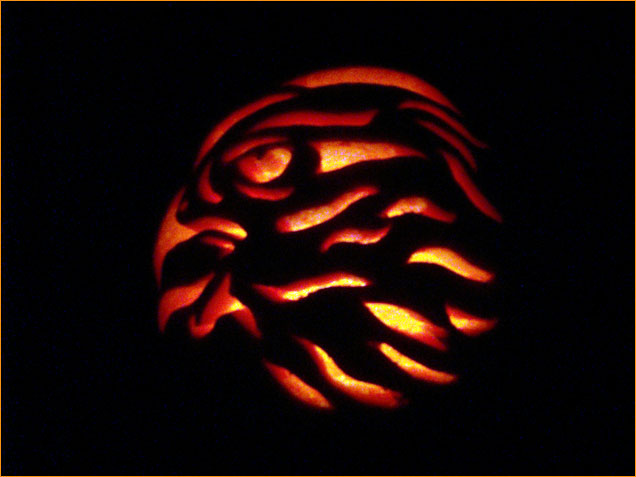 Red-tailed Hawk
For my office Halloween party, I carved the first six pumpkins on this page (plus the company logo). This one is part of a pair of tributes to the wildlife that lives near the office park. We have a pair of red-tailed hawks who hang around the building.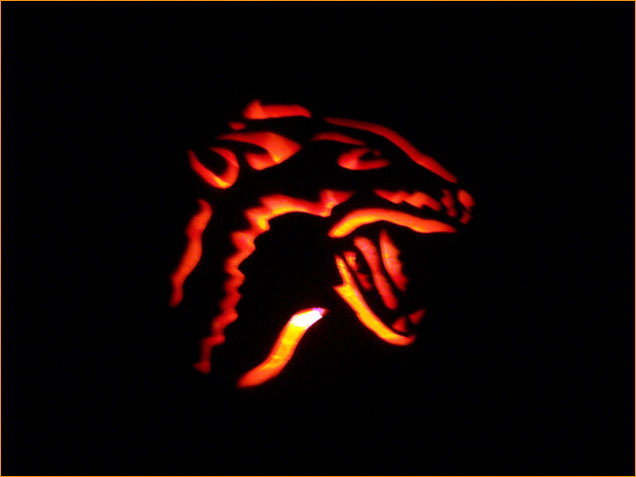 Red Fox
Second tribute to Animals Found in the Woods by My Office. Every so often we'll get red foxes coming through; they'll stop for a few minutes, tell some dirty jokes, complain about white people, and then leave.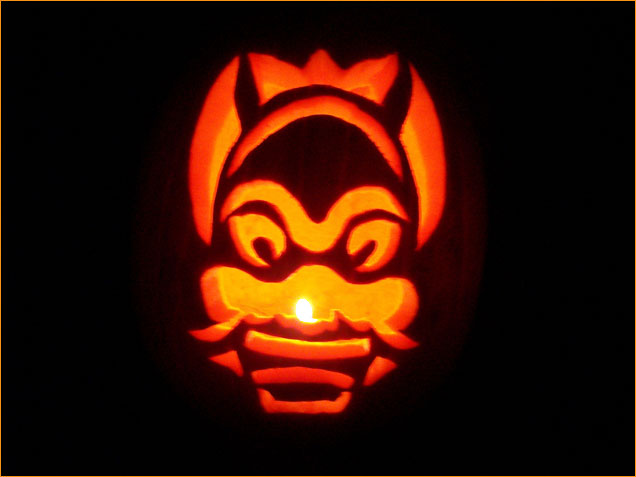 Blue Spirit
Three Avatar pumpkins for the office. This one lost some structural integrity; the nose and tusks were way more defined in the original sketch, but broke off in carving. Surprisingly easy to do.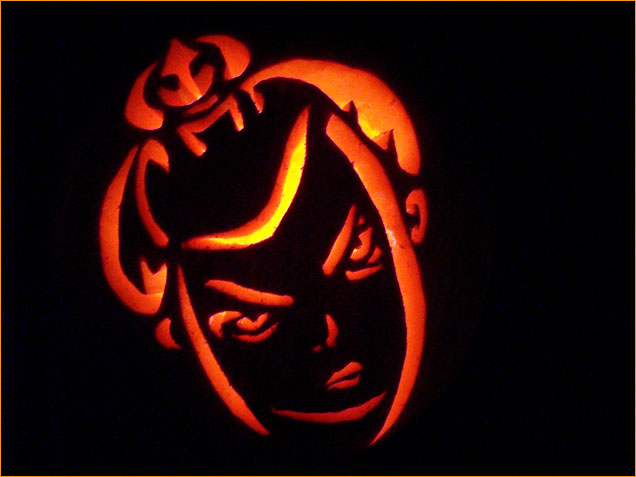 Azula
Here's a character who was made to be depicted in a fire-related medium.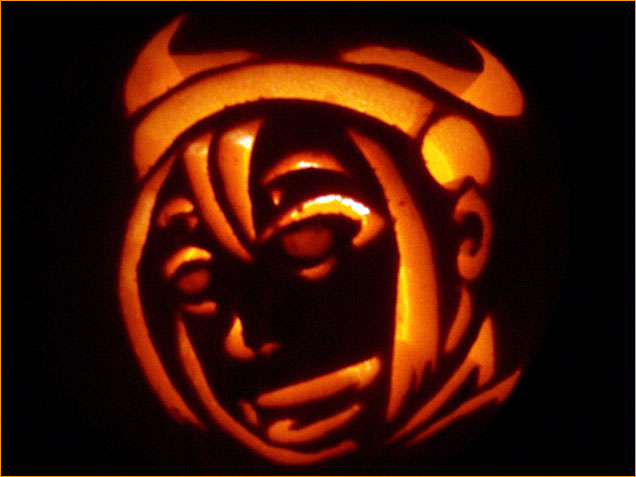 Toph
This is my favorite of the office pumpkins. I used the Dremel on her eyes to get the cloudiness right, including a slightly deeper cut for her pupils.
Yuuko
Yuuko from Xxxholic, with which I'm only passingly familiar, but I needed a fortune-teller/witch character for my section's decoration theme. The smoke trails are Dremel work. CLAMP stuff just about always makes for good pumpkins, probably because of the eyes.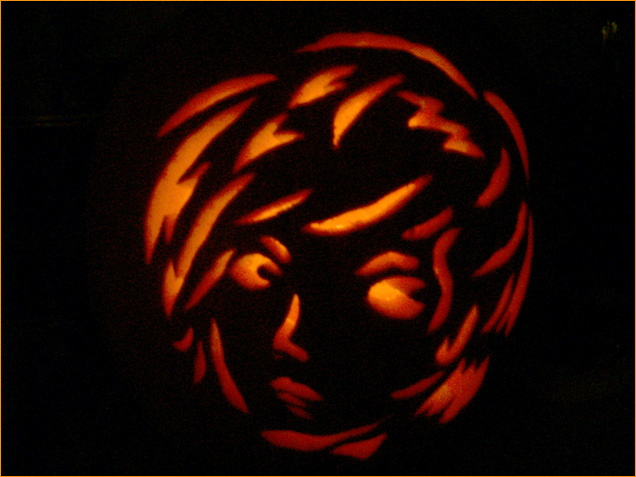 Light
Mini-Death Note theme this year, going for something vaguely Halloweenish and spooky, and these character designs practically screamed to be set in pumpkins.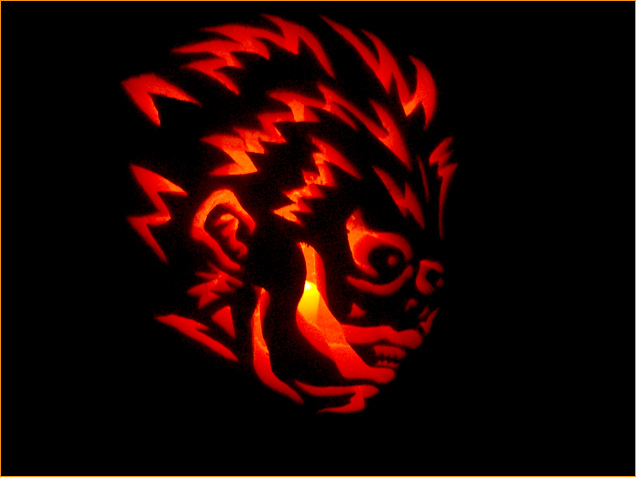 Ryuuk
I keep doing more characters in profile or 3/4 this year, possibly because they're a little more expressive and a little less symmetrical. The eyes and mouth were a lot of fun to do.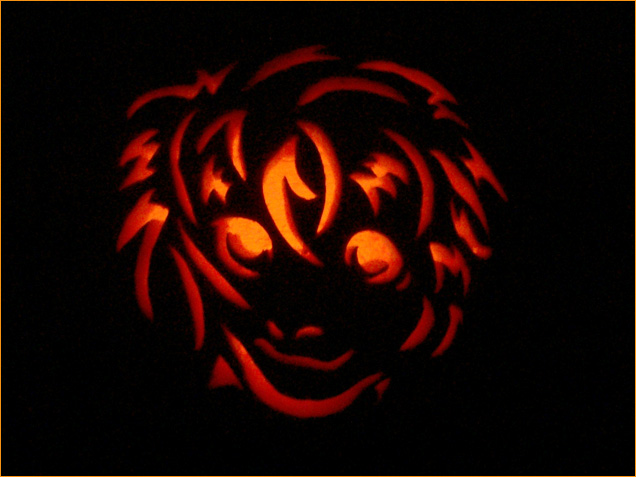 L
I've always thought the character looked like 2004-model Clint Dempsey, mostly the hair and the hubcap-sized eyes. I love how all three of the Death note ones turned out.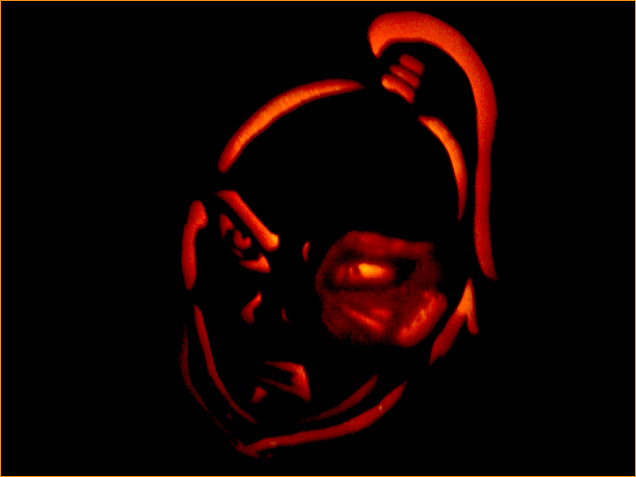 Zuko
Instead of a Dremel on the eye-burn, I used a linoleum cutter, which I hadn't ever used on pumpkins and hadn't used in general since high school. I liked how clean the lines came out at first, but prefer the speed and ease of depth I can get with the Dremel. Also, Zuko looks like a pissed-off Zippy the Pinhead.
Ozai
Everyone in Fire Nation has to wear a pin with his portrait.
Father and Son
One of two father-son pairings I did this year; the other is on my other site.