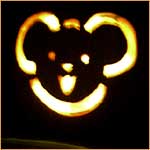 Kerochan
Kon-nya-nyachi-wa! Are you guys eating enough candy? This year, I went Card Captor Sakura themed! Go go Kerochan check! As you can see, this was a little baby pumpkin. The design was made by tracing around a couple of drinking glasses. Isn't it handsome? Well, that's all for now! Hon-na-na!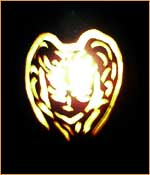 The Windy
CCS Theme Part 2: I did the four elemental Clow cards. This one I wasn't real happy with, even beyond the photo not turning out right. The forehead decoration on the right broke as I was carving it, and the design didn't really hold up well—I had to pin part of it in place.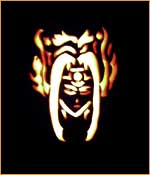 The Firey
Second Clow card of the night. Looks oh so appropriate when lit up.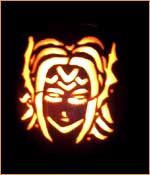 The Watery
Third Clow card. I think this one's my favorite; I really like how the detail, esp. the bubbles, turned out. In general the cards made good source material.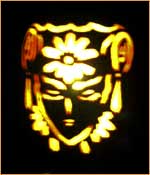 The Earthy
Fourth Clow Card. Eyelashes are tricky. Really pretty, though.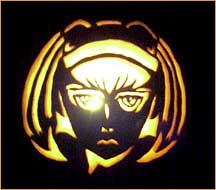 R. Dorothy Wayneright
Manga style, where she's got spooky concentric circle eyes. Those pupils were done using a Dremel.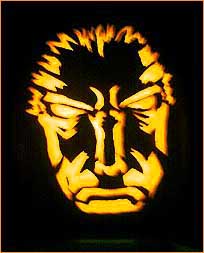 Millions Knives
Based on a particularly creepy manga page from Trigun Maximum vol. 4. No kidding there's an American comics influence there...a couple people commented that this looks like Wolverine. Probably the meanest looking pumpkin I've ever done.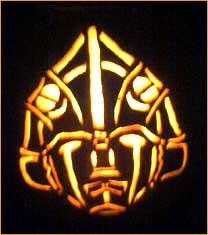 The Big O
Big O, showtime! I cheated on this one. Previously, all my designs were done freehand. This time I got frustrated and just scanned in a schematic of the robot and worked out the design using Photoshop. Bonus in that case was getting the nice symmetry. Mike suggested I do this pumpkin. Hi, Mr. Konaka!