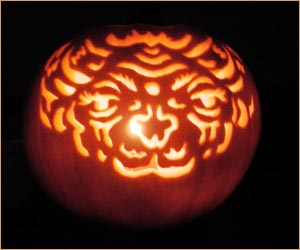 Yubaba
This one wasn't done at Halloween at all. I did this one at Anime Weekend Atlanta as part of my "Anime Martha Stewart" panel discussing silly-ass home ec projects like pumpkin carving. This is Yubaba, the witch from Spirited Away, which I'd seen a week before heading to Atlanta. Her face had such great lines in it I knew she was meant to be a pumpkin subject. Photo courtesy Linus Lam.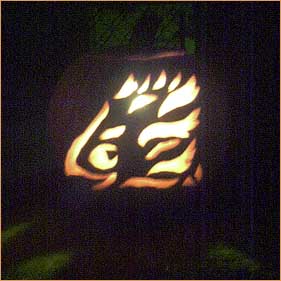 Suezo
Suezo the baby dragon, from Five Star Stories. This year's littlest pumpkin.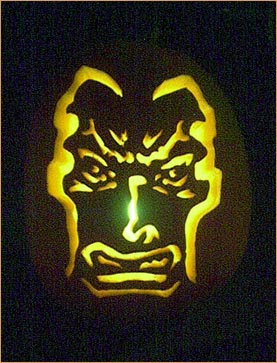 Monev the Gale
Third year in a row for a Trigun themed pumpkin, this one featuring Monev. I wonder if I'll do all of the Gung Ho Guns eventually.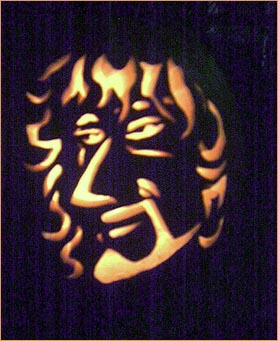 Vincent Volaju
Knew I had to do this one after seeing the Cowboy Bebop movie screened in New York. It's a Halloween movie, the best tune on the soundtrack is "Yo Pumpkin Head," and Vincent's a fabulous bad guy.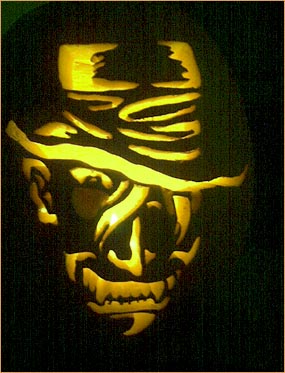 Alucard
Alucard, lifted directly from the first Hellsing DVD cover. The cool half-glow shapes of his glasses were done using a Dremel to scrape half of the flesh out.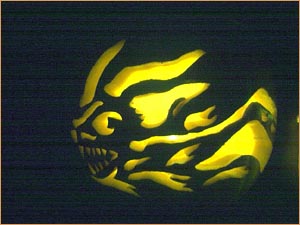 Haku
Part one.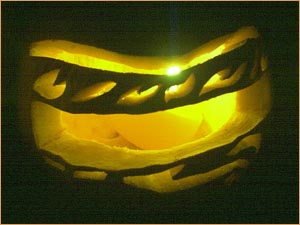 Haku
Part two.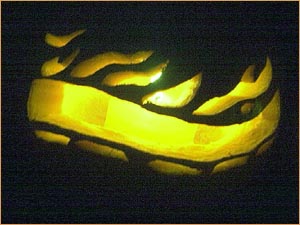 Haku
Part three.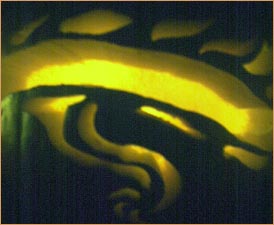 Haku
Part four.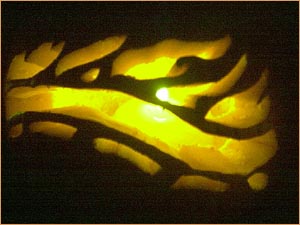 Haku
Part five.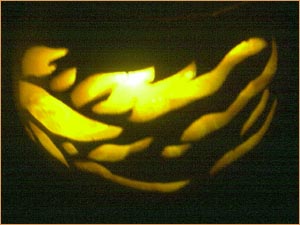 Haku
Part six.
Okay, now this is a special kind of silly-ass. I mentioned above I enjoyed the film Spirited Away, right? So, there's this dragon character, name's Haku, and I got the idea that I'd render him as a design spanning the length of my porch. (Part of it, anyhow—there's a brick column that prevents it from running the whole span.) This made way more sense when I was unemployed, but wouldn't you know it I went back to work this year. Fortunately, 10/29 was kind of a light day at the office, so I took off early and spent five hours carving this sucker. My favorite parts don't quite come through in the pics above, which are his claws; I like the curves a lot. This was the kind of project that makes me wonder exactly what am I gonna do next year to top it.

Above and below: Haku, full view. Not to bust out a cliche, but the pictures really don't do it justice.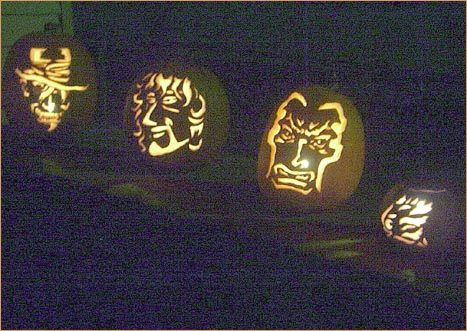 My porch
This is the side of my porch by my front steps.